6 Beautiful Deck Ideas For Your Home
When it comes to creating a beautiful outdoor space, a deck can be the perfect addition. Not only does it provide an area for relaxation and entertainment, but it also enhances the overall visual appeal of your home.
Whether you have a small backyard or a sprawling garden, there are countless deck ideas that can transform your outdoor space into a stunning oasis.
From stylish designs to functional layouts, these six beautiful deck ideas offer plenty of inspiration to elevate your outdoor living experience. Rex Paine Timber are one of Melbourne's leading timber suppliers for all decking projects. Have a look at some inspiration below and then give us a call to get started!
Walkway Made Of Stone & Decking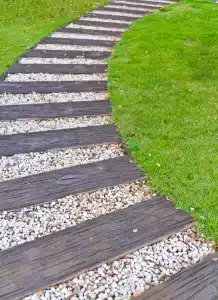 One of the most charming deck ideas is to create a walkway made of stone and decking. This combination not only adds visual interest but also serves as a practical and functional feature.
A walkway made of stone creates a sturdy and durable pathway that can withstand heavy foot traffic, while the wooden decking adds warmth and character.
To achieve this look, you can use various types of stones, such as flagstones or pavers, for the main path. Consider arranging them in an eye-catching pattern or mixing different sizes for added texture.
Alongside the stone path, incorporate wooden planks or decking materials that blend seamlessly with the surrounding landscape.
Enhance the aesthetics by incorporating lush greenery alongside the walkway. Planting small bushes or flowers on either side can add pops of color and softness to contrast against the stonework.
Additionally, you might consider adding pathway lighting along this beautiful deck idea to create a cozy ambiance during nighttime hours. Whether it's recessed lights embedded into the flooring or stylish garden lanterns placed strategically, well-planned lighting will lend an enchanting touch.
Multi-Level Decking For A Backyard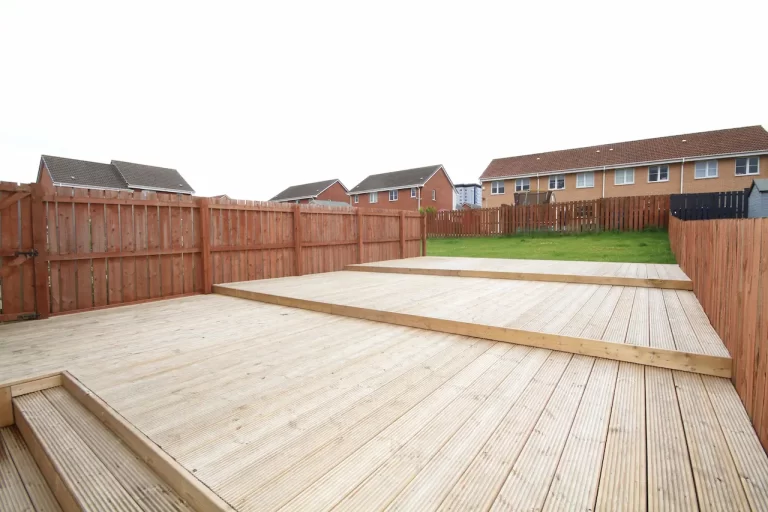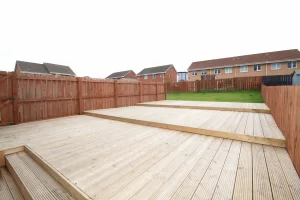 A multi-level decking design can transform your backyard into an inviting and functional space. This deck idea offers versatility and creates visual interest by adding different levels to your outdoor area.
By incorporating multiple platforms at varying heights, you can create distinct zones for different activities. For example, one level could be dedicated to outdoor dining with a table and chairs, while another level might feature cozy lounge seating for relaxation. The additional levels not only enhance the aesthetics but also maximise the use of space in your backyard.
When it comes to materials, wooden planks are a popular choice for their natural appeal and durability. Consider selecting high-quality wood that complements the style of your home and provides long-lasting beauty.
To further elevate this beautiful deck idea, incorporate landscaping elements around each level. Planting colorful flowers or shrubs along the edges softens the transition between the decking and the surrounding lawn or garden.
Decking Overlooking Water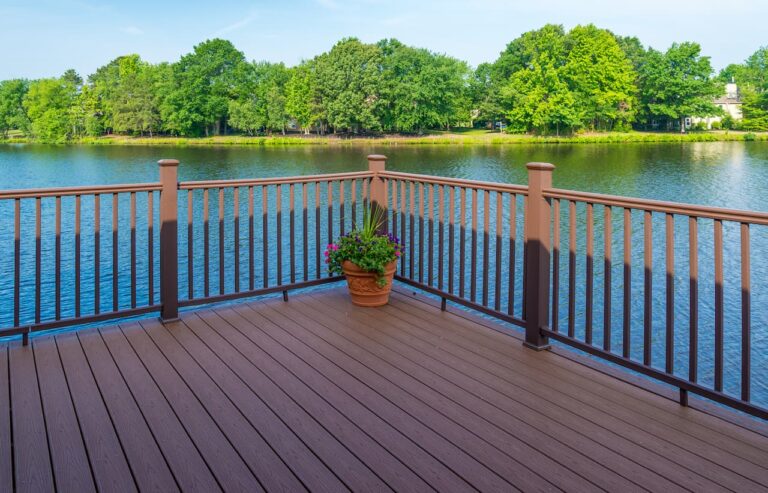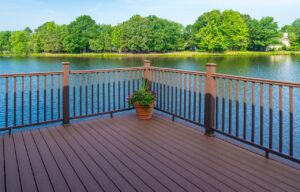 Imagine having a serene and peaceful retreat right in your own backyard with a decking overlooking the water. This deck idea creates a tranquil oasis where you can unwind while enjoying stunning views.
The wooden deck, with its white railing and bench, provides the perfect vantage point to take in the beauty of the water. The use of wood adds warmth and natural charm to the space, harmonizing with the surrounding environment.
To enhance your comfort on this beautiful deck, consider adding an umbrella for shade during sunny days. The striped black and white pattern adds a touch of elegance while providing relief from direct sunlight.
With trees lining the banks of the river, you'll feel immersed in nature as you relax on this deck. Consider incorporating planters or flower beds along the edges to further enhance the natural ambiance and bring additional colors and textures to the space.
Decking In A Corner With Railings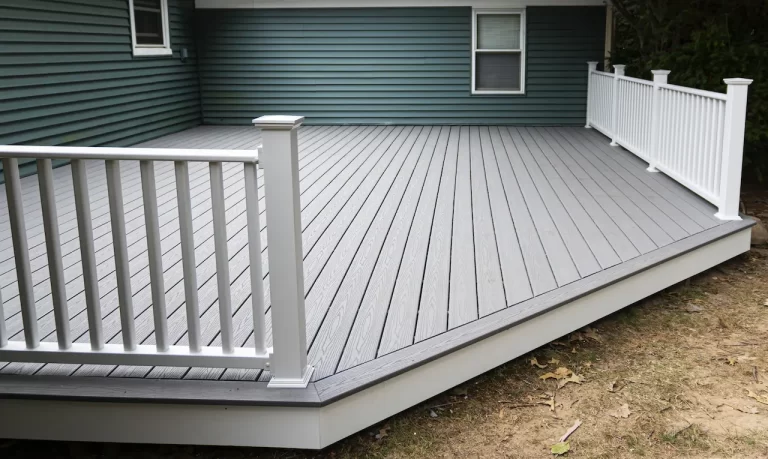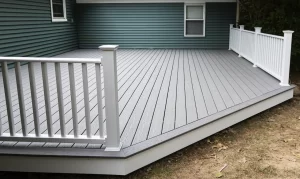 A deck in a corner with railings is not only a practical solution but also adds style and sophistication to your outdoor space. This beautiful deck idea creates an inviting nook where you can relax or entertain guests.
The use of wooden decking boards, stained in a dark grey hue, gives the deck a modern and sleek appearance while blending seamlessly with its surroundings. The neutral color palette allows for versatility when it comes to furniture and decor choices.
Installing railings on this corner deck provides safety as well as visual appeal. From traditional wooden railings to sleek metal options, there are various designs available that can complement the overall aesthetic of your outdoor area. With this build, you could also use the Modwood Composite Decking which is built to withstand the tough Aussie weather.
Choosing a corner location maximizes the use of space and offers privacy. Surrounding trees create a natural backdrop, adding beauty and tranquility to your outdoor retreat.
Decking For A BBQ Area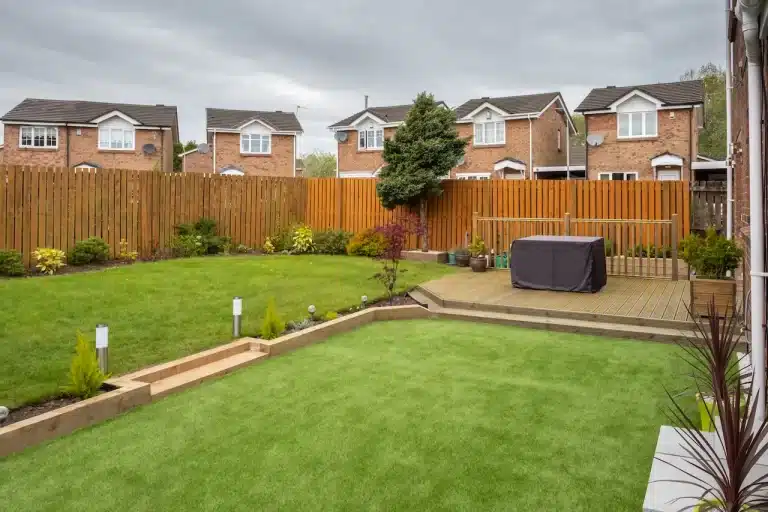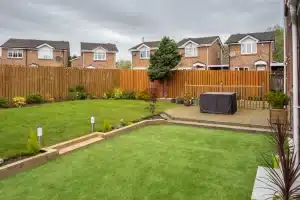 Decking for a BBQ area is an excellent idea to create an outdoor space dedicated to delectable culinary experiences. This beautiful deck design combines functionality with style, providing you with the perfect spot for grilling and entertaining guests.
The wooden decking sets the stage for your BBQ area, creating a warm and inviting atmosphere. Choose durable and weather-resistant wood that can withstand heat and resist wear over time.
To enhance this deck's purpose as a BBQ area, consider incorporating practical features such as a built-in grill station or countertop space for food preparation. These additions will ensure convenience while allowing you to showcase your culinary skills.
A stone fireplace adds charm and provides warmth on cooler evenings, allowing you to extend your outdoor gatherings throughout the year. Alongside the decking, a small pond with water fountains adds serenity and creates a visually appealing focal point within your BBQ area.
Feature Deck In Backyard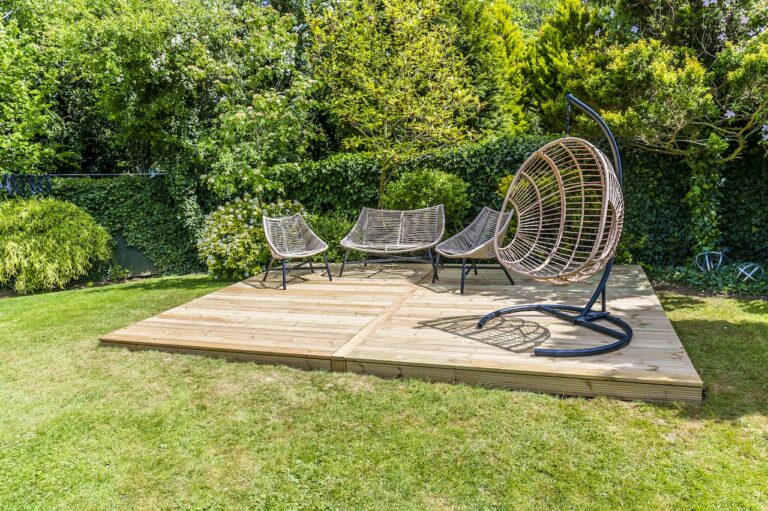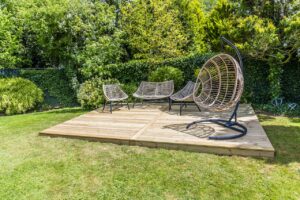 If you're looking to transform your backyard into a captivating and inviting space, consider creating a feature deck. This idea will serve as a focal point in your outdoor area, combining comfort and natural elements for an enchanting retreat.
Start by constructing a wooden deck that complements the style of your home. Opt for high-quality materials with a dark wood finish to add warmth and sophistication. The deck will provide the foundation for this remarkable project.
Arrange various seating options on the deck to maximize relaxation opportunities. Choose comfortable lounge chairs or even incorporate a cozy hammock where you can unwind and appreciate the beauty of nature surrounding you.
To create an intimate gathering spot surrounded by beautiful trees, position wicker chairs in a circular arrangement around an outdoor bench. This provides an ideal setting for conversations or enjoying refreshing drinks with family and friends.
Incorporating natural elements adds charm to your feature deck design. Consider embedding stones in a spiral pattern within the grassy areas adjacent to the deck, providing visual interest while harmonizing seamlessly with nature's surroundings.
To further enhance the charm of your feature deck, consider adding some decorative elements. Install outdoor lighting fixtures strategically around the deck to create a warm and inviting ambiance during evening gatherings.
Summary
These six beautiful deck ideas offer a range of inspirations to transform your outdoor space into a captivating oasis. From incorporating stone and decking for a charming walkway, building multi-level decks for added functionality, or creating decking overlooking the water for a tranquil retreat, each idea brings its own unique allure.
Whether you opt for decking in a corner with railings to provide both safety and style or go for the practicality of a decking area specifically designed for BBQs, these ideas elevate the aesthetics and functionality of your backyard. Lastly, the creation of a feature deck acts as an eye-catching centerpiece that combines comfort with natural elements. Speak to our team of experts today to help you build your next deck!